Description
GAMMAXX 400 EX is upgraded from GAMMAXX 400's classic design.
With more dense cooling fins and 2 Performance fans,
the GAMMAXX 400 EX significantly enhances cooling performance without affecting case and RAM compatibility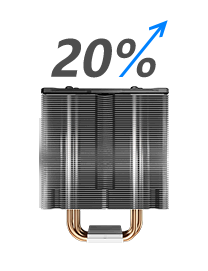 Additional Dissipation Fins
As a 120mm cooler, GAMMAXX 400 EX incorporates a total of 56 dissipation fins. Compared to single fan models, its total surface area is increased by 20%, making full use of the airflow generated by its twin fan design.
Performance Fans
2 TF120 high-performance PWM fans are included, doubling the coolness.
High-performance Heat Pipes
GAMMAXX 400 EX comes with 4 high high-performance sintered copper heat pipes, each specifically positioned to instantly dissipate CPU heat.
Core Touch Base
Its base adopts Core Touch Technology to dissipate heat more efficiently.
Black Top Cover
The iconic black top cover gives your computer set up a unique appeal.