Description
Arm Your PC with Next-Gen Wi-Fi Technology
AX3000 Wi-Fi 6 Bluetooth 5.0 PCIe Adapter
Archer TX3000E
Next-Level Gaming
The very latest Wi-Fi 6 standard guarantees extreme speed, ultra-low latency, and uninterrupted connectivity. Utilizing the Wi-Fi 6 foundation, Archer TX3000E is designed to liberate your gaming from cables and fully optimize your gameplay. Discover the missing component of your gaming arsenal!
1000Mbps

Traditional Tethered Gaming: 1000 Mbps

2.4Gbps

with PCIe TX3000E

with PCIe TX3000E

Unlimited Wi-Fi 6 Gaming: 2.4 Gbps
Stay Immersive
1024-QAM and a 160 MHz bandwidth deliver powerful, continuous
Wi-Fi to fully unlock the potential of your Wi-Fi 6 router.
Achieving speeds 3× faster than standard AC Wi-Fi drives your
PC to peak performance so your setup keeps pace with your
jaw-dropping skills.



Incredibly Smooth Gameplay
Lower latency is essential to gaming success. Revolutionary OFDMA
reduces lag by up to 75%. Enjoy ultra-responsive real-time gaming or
immersive VR experiences.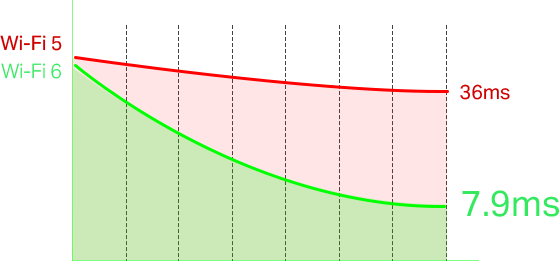 Latency
Broader Coverage
Two multi-directional and high-performance antennas with a magnetized base extends your existing Wi-Fi reception capabilities, allowing you to game anywhere and anytime. Place the magnetized antenna base anywhere on your desktop to find the optimal location for signal reception.
Magnetized Base
Simultaneous Entertainment for All
A revolutionary combination of OFDMA and MU-MIMO technologies ensures the most efficient Wi-Fi connection for your PC. OFDMA technology divides band resources into smaller units while MU-MIMO allows more devices to communicate simultaneously—without lag.
802.11ac | without OFDMA

802.11ax | OFDMA
Bluetooth 5.0 Compatible
Archer TX3000E is compatible with the latest Bluetooth 5.0
Technology, achieving 2× faster speed and 4× broader coverage
than Bluetooth 4.2. Connect as many devices as you want, including
game controllers, headphones, and keyboards, to enjoy a smoother
experience than ever before.
Advanced Security
The latest security enhancements—WPA3 provides more secure and individualized encryption in personal password safety, protecting your network from wireless hacking. Always keep your network safe while gaming online.
Fine Crafting for
Ultimate Performance
Built with a specialized heatsink crafted to improve stability and reliability even in hot environments. Careful attention to every detail, such as gold plating on every contactor to resist oxidation, delivers a superior network experience.
Easy Setup

Simple software installation with the intuitive Utility on the provided CD

 

Operating System

Supports Windows 10 (64-bit) only

 

Low-Profile Bracket

In addition to the standard bracket, a low-profile bracket is also provided for mini tower computer cases