Description
The GT FIT Series professional gaming chair comes with streamlined gaming aesthetics and mixes true ergonomic form with maximum function. In doing so, it creates a perfect balance between desired gaming comfort and expected performance during the most intense gaming sessions. With an anti-fatigue design and built with materials of the highest quality, the chair offers maximum customization to suit both your gaming and comfort needs.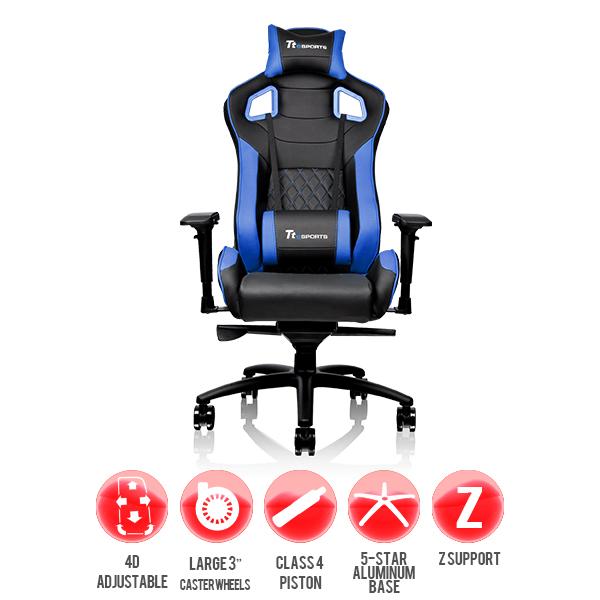 ERGONOMIC & DURABLE DESIGN
For prolonged periods of sitting, it is important that it be done comfortably with good posture. The National Institute of Health recommends choosing a chair with all the necessary adjustments to support proper posture. This includes:
Chair with casters and five-point base
Seat rest with dense foam padding
Backrest with lumbar support
Armrest with adjustable height and width
Seat height hydraulic adjustment
Chair recline and tilt function
22MM DIAMETER ENHANCED STEEL FRAMEWORK
Super strong
Extremely durable
Premium construction
DENSE FOAM PADDING
75kg/m3 density foam padding for true ergonomic support and comfort
Durable construction that does not lose shape
Environmentally friendly design
PREMIUM FAUX PVC LEATHER
High-quality faux leather for enhanced durability, breathability and splash resistance to accidental spills. Use of PVC provides enhanced durability than that of traditional PU materials and is easier to maintain.
4D ADJUSTABLE ARMREST
4 directional height, width and 4-direction adjustable for optimal support of the forearm to relieve wrist pressure and muscle strai.


ADJUSTABLE BACK
Allows for effortless adjustment of back angle up to 160 degrees for optimal sitting position during general and gaming use.

Z SUPPORT MULTI FUNCTION TILT MECHANISM WITH LOCKING SYSTEM ANGLE ADJUSTOR HEIGHT ADJUSTOR
Provides adjustable tilt for increasing and decreasing tension by matching the body weight of the user for effortless, secure and sturdy rocking, without putting fatigue on muscles.
POWERFUL CLASS-4 GAS PISTON
Gives easy height adjustment of the seat for optimal ergonomic support for both posture and back stress prevention. User can adjust height for optimal support based on environment.
STURDY 5 STAR ALUMINUM BASE
By using a premium grade aluminium base which is designed to support a max load of 120kg, the chair is more durable and long-lasting compared to it's nylon based counterpart. With internal structured design and a 70cm (25") width it is also more stable and solid.
LARGE 3" CASTER WHEELS
Use of large 3" caster wheels provide enhanced base support whilst in use. Wider wheel base also provides quieter operation and further adds to the stability of the chair with even greater freedom of movement.